I am a political scientist at the University of Hamburg (Germany) and member of its Center for Sustainable Society Research (CSS).
Since 1 May 2020, I lead the research project "How Ideas Frame the Politics of Climate Change" (funded by the German Science Foundation DFG).
In my research, I concentrate on the following topics:
Governance in Multi-Level Systems (esp. the European Union);
Climate Change policy and politics in comparative perspective; and
Europeanization of political systems, esp. national parliaments.
For more information about my bio, research and publications go to the menu points above.
Die deutsche Version findet sich in den Menüpunkten rechts oder hier.
Recent publications: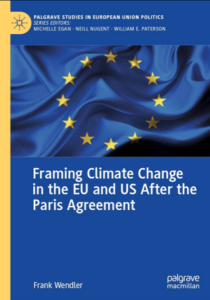 Book: "Framing Climate Change in the EU and US After the Paris Agreement", Palgrave Macmillan, 2022 (for more information from the publisher website, click on the image above).
Article: (with Achim Hurrelmann): "Discursive postfunctionalism: theorizing the interface between EU politicization and policy-making", Journal of European Integration, published 3 March 2022, https://doi.org/10.1080/07036337.2022.2045592; Link here
Article: "Contesting the European Union in a Changing Climate: Policy narratives and the justification of supranational governance", Journal of Contemporary European Studies, published 9 February 2021, https://doi.org/10.1080/14782804.2021.1882107; Link here
Below are links to some of my previous work (click on images to follow link):