Ich bin Politikwissenschaftler an der Universität Hamburg und Mitglied des dortigen Center for Sustainable Society Research.
Seit dem 1. Mai 2020 leite ich das Forschungsprojekt "Klimapolitik als Ideenkonflikt" (Eigene Stelle / DFG, Laufzeit 36 Monate).
Meine Forschungsinteressen konzentrieren sich auf die folgenden Themen:
Regieren in politischen Mehrebenen-Systemen, insbesondere der EU;
Klimagovernance in vergleichender Perspektive; und
Europäisierung politischer Institutionen (v.a. Parlamente).
In den Menüpunkten rechts finden sich aktuelle Informationen zu meinem Werdegang, Publikationen, Forschungsinteressen und anderen beruflichen Aktivitäten.
The English version is available in the menu points at the top or here.
Aktuelle Publikationen: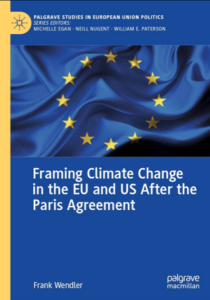 Monographie: "Framing Climate Change in the EU and US After the Paris Agreement" (Palgrave Macmillan, 2022); für mehr Informationen von der Verlagsseite bitte auf die Bilddatei klicken.
Artikel (mit Achim Hurrelmann, 2022): "Discursive postfunctionalism: theorizing the interface between EU politicization and policy-making", Journal of European Integration, https://doi.org/10.1080/07036337.2022.2045592; Link hier
Artikel (2021): "Contesting the European Union in a Changing Climate: Policy narratives and the justification of supranational governance", Journal of Contemporary European Studies, https://doi.org/10.1080/14782804.2021.1882107; Link hier
Nachstehend einige Links zu früheren Vorarbeiten (für das Link bitte auf die Bilddatei klicken):